To Champaigne, we took care of each other, girl
by Karen Baker Radonski
(Boardman, Ohio, USA)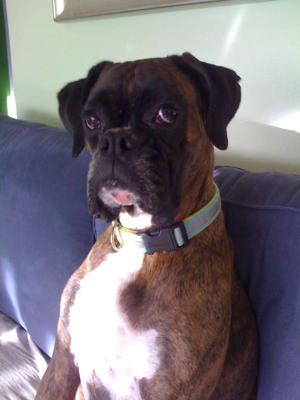 Many times you lose a pet and no one but you truly knows how wonderful he or she was. However, my 5 year old Brindle Boxer girl, Champaigne, was known and loved by so many people! It started as "socialization" and ended up often as "Don't come to our store unless Champaigne is with you!"

She went everywhere with me and I was so very proud. Everyone thought that it was my training that made her so well behaved and mannerly but alas, I cannot claim this distinction. This was all her. Just the way she was, so gentle, so lovable. She never jumped on a child, just stood still and let many many little hands touch her. She was so loved.

I miss her most at night. In my king sized bed she would stretch her long slim body out and no matter where I laid, I could reach out my hand and touch her. That precious body, so beautiful. I took such good care of her. I brushed her teeth, gave her sponge baths and put her "chocolate" lotion on. I made her food myself....no nasty dog food for my Princess. I have no regrets except that I can't understand why God took her from me at only 5 years old!!

As she was dying, she still walked to me and wagged her tail, then laid down, like a frog (back legs splayed and belly to the floor, her favorite), put her head down as if to say, "I waited for you and now I'm ready." OMG! I can't bear it! (Tears streaming down my face and gulping air.) Why???

I suspected that she may have been sick for a long time and hid it so we could just go on playing, walking and loving each other.

So Champaigne, my sweet Girl, my Princess, my little Yammy, I love you and YOU LOVED ME! Only me! I will miss you every day of my life. There will never be another Champaigne.

There will be another Boxer, because Champaigne said she is sending one to me so I won't be lonely. She is in heaven with all my relatives who love dogs, and is waiting for the day that she sees me coming and runs and runs and runs to ME!