My Benny Boy
by Kathy
(Massachusetts)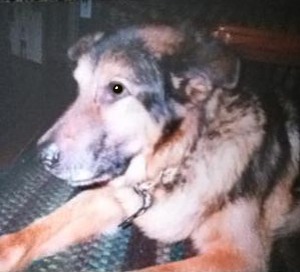 Benny Boy's final picture
My boy was one of the best dogs I ever had! He lived to be 17 years old, but still was a puppy in his heart.

Ben was an incredibly gentle, german shepherd mix who knew almost any command. He helped me through many other losses in my life, and when his came it was hard to bear.

That dog will always have a special place in my heart. When I know I need him, I will look beyond the Rainbow Bridge, and listen with my heart!

I miss you, Benny Boy!