Bear Bear
by Shannon
(Greenwood, IN)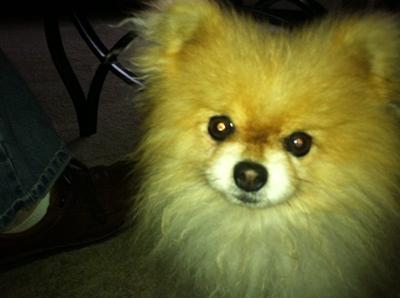 To my Honey Bear, who passed away during a dental procedure this afternoon 7/16/2007-2/28/2011

Little Bear Bear, I loved you so much from the day we adopted you from the rescue.

You were so scared when you came to me four years ago after being abused for so long. You were so bald and you had a lot of teeth missing but you were such a cute pitiful thing! You had the biggest heart for a 4 lb. Pomeranian. For years I was the only one who could even pick you up or hold you. You would get so upset when I left you, you chewed holes in the carpet at Pappaw's!

You had grown so much since the first day I met you. You just learned how to play fetch and had gotten so confident and loving with everyone. I miss taking you on car rides and loving all over you.

I don't know what I'm going to do when your little creepy butt isn't peeking out from around the corners, waiting for me to come scoop you up, or how I'll sleep without you pressed up against my side.

I feel so guilty for not spending more time with you before I dropped you off at the vet this morning. I would never have left you had I known I'd never see you again.

When I picked you up to take you to get cremated I kept praying you would wake back up. I am heartbroken without my tiny best friend! Just know that I can't wait to see you again. Please wait for me! Kisses and squeezes from your mommy and daddy.