Wyatt
by Kent
(Phoenix, AZ)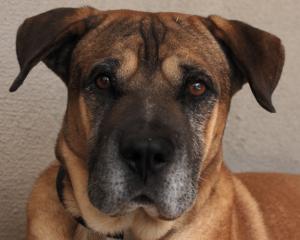 Wyatt was a stray found wandering my neighborhood in terrible shape. He was filthy, covered with dried blood, and had a case of tick fever that had been left untreated for years.

We instantly connected and he became my best friend and constant companion if only for two short years. He always seemed so grateful for even the smallest act of kindness. I know that he had been abused and neglected due to the mental and physical scars he displayed.

He was unfamiliar with affection but quickly became a very loving dog. He was treated like royalty for the last two years of his life.

Wyatt was born with only one kidney that was severely compromised by the tick fever that had been left untreated. Even with the best possible care, he left us on January 9th.

Our lives will never be the same without his soulful gaze and unconditional love.

R.I.P. Little Buddy! Your are sorely missed!