We Miss You, Tank
by Stefanie Mitchell
(Layton, UT USA)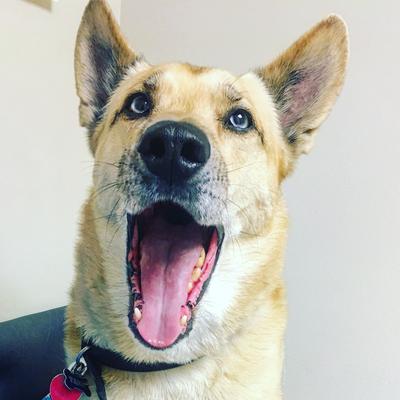 Tank "Donkey" Groves 6/5/09-10/17/18
aged 9 years, 4 months and 12 days

On October 17, 2018, my and Coty's lives changed forever. Our beloved dog, Tank, passed away due to Hemangiosarcoma. His spleen ruptured, causing him to bleed internally. It was not curable. There was nothing we could do.

We brought him home from Washington to be with family. He survived only a few days after going home. He was so happy to be around people he knew and loved. He was so happy to go to his park and the pond he loved.

He was diagnosed 6 days prior to passing away. It was so fast. It hadn't even sunk in that he had a quick and deadly cancer. He was given a month to three months of survival, but got nowhere close to that. He passed away around 2 AM. Coty held him and comforted him as he took his last breaths.

Tank came into our lives on July 14, 2009 at only 5 weeks and 6 days old. He was so small, and his eyes looked sad. He wasn't a sad puppy, but he was sick. He had worms, needed vaccinations, and needed love and warmth.

We gave him everything he ever needed, and in return, he gave us companionship, went everywhere with us, and he loved us. He loved each of us in his own way.

Coty was his most favorite person on the planet. He was at his most ecstatic around Coty. I was his second favorite, and I loved him so much that I was okay with it. I spent the most time with him, but it was time spent waiting for Coty to be home.

Through the years, we walked hundreds of miles, drove thousands more, and explored a million times over. Tank has done more and been more places than most dogs. He saw Mount Rushmore, outran a tornado in a little yellow car, saw Grand Coulee Dam, went to Wendover, Nevada, saw Montana, Idaho, South Dakota, Wyoming, Washington, Oregon, Utah, New Mexico, Arizona and Nebraska.

He lived in Yellowstone for 3 summers, lived at a reservoir in Washington for 2 summers. He got to see the Pacific Ocean and run on many beaches. He lived his final winter in a family cabin in Wyoming, chasing squirrels and being visited by the same herd of deer nightly.

He was never stuck in a house for long, and never stuck in a backyard. He was always free and he loved every day of his life. He loved squirrels, chasing birds, and watching wildlife. He even met a small herd of deer face to face. They sniffed each other, and he was almost as big as they were.

His favorite thing to do was pull Coty on rollerblades. He would beg for it, and push the rollerblades around on the ground until Coty put them on. He would run for miles and miles when he was younger. As he got older, he ran less but he still ran.

Tank was so full of life, and everyone in his life served him with unconditional love, treats and admiration.

Tank passed away at just 9 years old, but that was the best 9 years of our lives. Everyone's lives. The world lost a sweet soul. He was the love of our lives. Nothing and nobody could ever replace him or fill that void.

He had so much personality and spunk. He had a million different faces, and he was very demanding. He always let us know what he wanted by barking and then looking at what he wanted. It was usually a treat, a walk, a potty or cheese. If something was in his way to lay down, he would bark at it as if to ask us to move it.

Tank's last two summers were filled with eating bees, fishing, chasing birds and playing with long goose feathers. It was filled with runs on rollerblades, treats and laying in the grass.

Tank got his first boat ride during his last summer, and he loved it. We began taking him every day. He was so excited when we caught fish. He had to be right next to whoever was catching the most fish.

Tank never allowed us to go far from him. He had to always be near one or both of us. He was always the most at ease when we were all in the same room together. He loved car rides, seeing cats, and laying between my legs on the bed at night.

We did nothing in our lives that didn't involve Tank. He was never left alone, even at the end.

There will never be enough I could say about Tank. If you knew him, you'd know he had a million different nicknames, and responded to all of them. We called him Schmoopy, Donkey, Baby Bear, Woof, Woofer, Wooftard and Donkey Bear.

He was a goofball who was gone before his time. He spent so much time being sick in his life, and we spent so many hours and days getting him back to health, only to have the most aggressive canine cancer take him from us less than a week after diagnosis.

We took him to an emergency vet, then a special doggy hospital 2 hours away to see what was wrong. We spent so much time, effort and money to help him. In the end, no amount of money could have saved him.

But he wasn't alone. He passed away in the arms of his favorite human. He is at peace now, will never have an upset tummy again, and will never have to get a bath, his ears cleaned or nails trimmed again. No more vet visits, which he hated.

But we will have no more Tank kisses, no more demanding barks and nudges with his cute wet nose, and no more running around the house. We no longer hear the clink of his collar as he roams, runs or trots in the house and yard.

What Tank gave us for 9 years is priceless. Our sorrow for his departure is our payment for those 9 years of loyalty, dedication, love and adventure.

We can never thank Tank enough for bringing that to all of our lives.

We love you, Tanker. Until we meet again.