Trog, my very best friend
by David
(Portland, OR)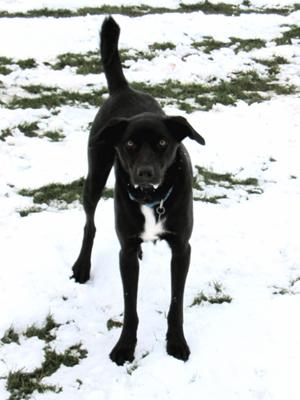 My Boy
You were the best thing to ever happen to me. You sat by my side at all times and never wanted me or anyone to feel sad, angry or stressed. I know it brought you stress -- you were so sensitive and I know you would not want me to be suffering like I am. You would be sitting here licking and nuzzling me.

Your life was short but very full. You played in the fields, swam in the ocean and rivers, frolicked in the snow, and drove with me shotgun for thousands of miles. Your light shined like the sun and brought joy to everyone you met. I picked you from the puppy pile on the farm and brought you to sleep with me from then on. We even got a king size bed so that we all had room, although we slept close with plenty of room to spare.

I can't stop replaying the car hitting you and you in my arms. I really thought you were Ok at first because nothing was broken on the outside but on the way to the vet I knew it was bad. I know you heard me saying how much I loved you and wanted you to stay. I know you knew, but were bleeding too bad on the inside.

I'm so so sorry! People keep saying that it was your time... know it wasn't, you were only 3&3/4yrs old. I took my attention off of you for a couple of seconds and didn't tell you to stay or cross and you went by yourself to get to me. I know I loved and cherished you and treated you like a king. I'm sorry for my lapse of attention. I made a grave mistake that cannot be turned around. You died because I was looking for wood for a stupid chicken coop!!!!

You taught me unconditional love and your bright shining spirit will guide me on. Although short, your life was beautiful. I'm so grateful I got to share some time with you. I will always be thinking of you and looking for you if you decide to come back in this world to find me. If not, we'll reunite when i die.

I LOVE YOU.