To the Little Man Who Stole My Heart
by Nicole
(Victoria, TX)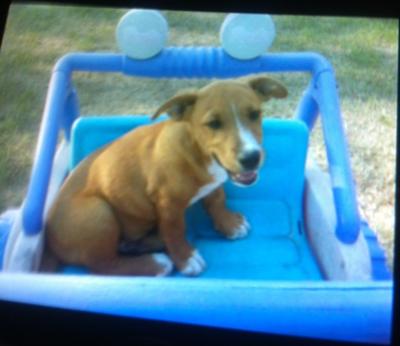 Little Man
Where do I even start? Little Man was My Buddy. He followed me everywhere when I was outside. He was always there when I called him. Most of time he would just come running when he heard my voice or the back door opening.

He and I became very close from the first time I saw him. He found his way to my back porch from a neighbor's house. He was born July 4th, 2011. We adopted him from the neighbor.

We recently lost him to what we think may have been a car accident. We were not home at the time. Which makes things even worse because now we are left with the what ifs.

He was a Corgy boxer mix. Just an adorable and lovable puppy. He stole anyone's heart from first sight. One of the best dogs anyone could have asked for.

I feel lost when I go outside and see his igloo and toys. We buried him under an old mesquite tree where we once played together.

I can't do anything but cry when I think about him or even look outside the window. I miss him so much already. He is the Little Man who stole my heart. He will never be forgotten by me.