The Sweetest Dog in all the World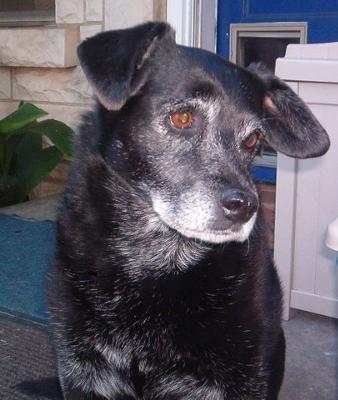 Sweet Molly B
We lost our sweet, sweet Molly B on Monday, Sept. 27th 2010. She blessed our lives for almost 13 years. We are heartbroken and can't stop crying.

She was a lab mix that we got from the animal shelter, and was the sweetest dog we have ever had. We have two other dogs that we also love with all our hearts but the pain we feel right now at losing Molly is almost unbearable.

She was my fudgy-pudgy puddin' and pie! Always happy and smiling. In her younger years she loved catching a ball and cooling off in a tub of water. She was loving and sweet to all she met with never a growl. She loved to have her tummy petted, loved to be brushed and loved her "treats."

She went blind a couple of years ago but learned how to get around very well in spite of that--never complaining in any way. She got sick just a month ago, but rallied a bit until a couple of days ago.

She couldn't get up on Sunday. We loved on her all day and evening just waiting for the vet's office to open and praying she would be ok but also realizing that she was very sick. She put her head in my lap at one point as if to say "goodbye mommy I have to go." The vet said it was time so we held her in our arms as she went to sleep to cross over to the other side of the rainbow bridge.

We have cried a river of tears for her and yet know that now she can see and run and catch balls all she wants. And yet it hurts so much to be without her. So very much.

Molly B--my sweet fudgy-pudgy puddin' and pie... I will always carry you in my heart. I will see you again--I know--because I believe in the loving God who gave you to us will also re-unite us again some day. I love you.