The Love of My Life
by Priscilla
(Florida )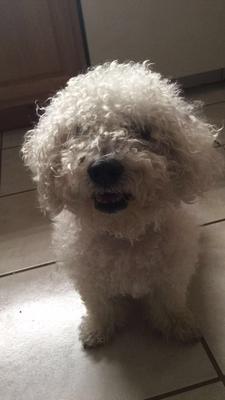 The love of my life died today. He was everything I could possibly ever want. I was just 5 years old when I first laid eyes on him. I remember when I first saw him, he was running around like crazy. It was probably the fastest that I ever saw him run. He was so happy and so friendly and loyal.

I loved him to death. He was my everything, but on February 24, 2017 my heart broke. I woke up at 5:30 AM for school. As soon as I left my room I smelled something horrible and thought that maybe one of my dogs pooped around the house. I was going to clean later because I had to get ready for school.

At 6 AM I went downstairs to eat a quick snack before I left. I opened the fridge to get something to eat. Usually I give some food to my dogs. Every time I open the fridge my dogs Benji and Jeannie always come.

But today was different. Only Jeannie came. I went to Benji since he didn't come, thinking that he was still sleeping. I reached my arm out with the food in my hand, hoping that he would smell the food, but he didn't move.

I saw that his mouth was open. The first thing I thought was that he was dead. I gently shook him so he would wake up, but he wasn't moving. I told my brother since he just woke up that I thought Benji was dead. My brother went downstairs to check and said, "Yeah I think he's dead, too".

I went upstairs to wake up my dad to tell him. He got up as quick as he could and checked on Benji. As soon as my dad knew he had died, he didn't know what to do. He and I started to cry and brother was just in shock. Jeannie was asleep. For some reason, she got over it faster then we did.

My dad and I were so heartbroken. It was so hard because he and I lost our best friend. My dad was saying things like "If there's a heaven for dogs, he's for sure going to heaven." And memories, like when he first got him.

He said things like he felt that they chose each other, like they were meant to be together because when he and my mom first got Benji, Benji was the quietest of all the dogs at the shelter. Every other dog was barking but Benji.

They took him home, and Benji was so happy. He was the most loyal dog ever.

Losing a dog really does feel like losing a member of the family. I haven't stopped crying since I found him dead. What makes me so mad is that for the past 3 days I'd neglected him. I wish I hadn't. He deserved so much better.

It's just so hard to take in. We don't know why he died. I will love and miss him forever.