Skipper
by Gina Judd
(Orange, CA USA)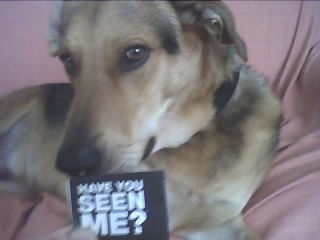 I use to marvel at Skipper. His whole life consisted of sleeping. Catching a tennis ball as it rolled off our roof after my father-in-law would toss it up there over and over, after he got off work.

At night, Skipper would plant himself in front of our bedroom door, waiting to go on a "W" with my husband. On many walks they'd go to the creek behind our house where Skip wouldn't even ask, he'd just run right into the water. He loved the water. Not clean swimming pools though, he loved muck water and creeks and the riverbed.

On Saturday mornings during the summer, my in-laws would take him to the dog beach. He'd get so excited, he'd get nervous colitis and poop the minute they got to the beach. He'd whine and whimper the minute he could see the ocean.

He loved to retrieve his tennis ball and he'd drop it, THUD right in front of the designated pitcher's feet, and then look at you like "Well? Dummy? Are you going to throw it?"

These were the things that made up Skipper's existence. Playing ball, swimming and going for W's. The rest of the time he'd sleep on the couch.

I never knew while I observed these things, that I was going to miss them so soon. I never knew how much I too loved this funny dog.

I found this out on Tuesday, February 11, 2009 when my husband came home and told me that Skipper had drowned at the river. Now each night I've drowned in my tears, wishing I had showed him how much I loved him. Wishing I had showed myself how much I loved him.

I want to blame my husband for taking him there. I almost did, but my husband loved that dog with all of his heart and he tried so hard to save him. He had to instead watch helplessly as Skipper didn't surface alive. My heart breaks for him, for me, for my son, for my in-laws because we woke up in the morning with a friend and went to bed that night with a memory and hole in our hearts; and we never saw it coming.

Skipper, I hope we get to see you again. We all miss you soo much. I loved you and always will.

Gina "Gert"