Sierra's O' Bitch uary
by Michael Keys
(Red Lodge, Montana)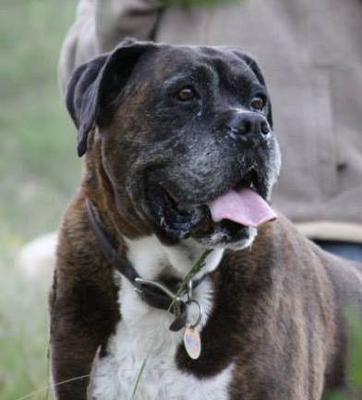 Sierra
Sierra passed away suddenly today. She fell over in the house and started panting yesterday. We took her to the vet and they found her lungs were full of fluid and her heart was much larger than it should have been. She was suffering from congestive heart failure. Less than 24 hours later she was gone.

Everybody always said that she had a huge heart. Nobody thought it would literally take her from us.

Sierra was born in October of 2001 to a purebred Boxer with papers. Her father was a Boxer/Mastiff mix. The Human of her mother was upset that his papered Boxer was going to have mutts.

Someone found out about his plan to dump the pups in the river when they were born and intercepted them. They were taken to Help For Homeless Pets in Billings.

I had a few months earlier lost my dog Kodi to an accident and had decided I needed dog love in my life again. I heard about Help For Homeless Pets and went to a foster lady's house to see what animals she had for adoption. I was hoping for a Pitbull/Lab like Kodi.

She told me she didn't have any of those breeds currently, but if I was interested, she had a litter of Boxer/Mastiffs in the other room. She told me the history I described above and then led me into a room.

In that room was a pile of the MOST adorable puppies I had ever seen. All so incredibly small, jostling around, playing, Brindle (striped like a tiger) and white.

One of those little pups turned from its siblings and looked at me. She then hopped (literally) over to me and looked into my eyes with her very intense and aware eyes as if to say, "Hi. Pick me."

Sierra and I were close and connected in a way I can't explain, right from the very start. She was always incredibly perceptive and aware of everything. I swear we always knew what each other was thinking just by looking into one another's eyes.

Sierra was also very strong, not just physically, but mentally and emotionally. When she was only 3 or 4 months old, I took her in to get spayed. A few days later I went out into the woods with a friend. We were shooting his pistol when I realized Sierra was gone.

How could I be so stupid? I hadn't even tested to see if she was afraid of that yet. We spent the next couple of hours following her tracks in the patchy snow to no avail. It got dark, so I went home and got a headlamp and warmer clothes. I searched for hours. I went home a wreck.

I felt so stupid. It got down below 20 degrees that night. It was also in the mountains and there were mountain lions and wolves around. No chance for a young dog with a freshly healing surgical wound.

The next day I went searching again and put up fliers with her picture and info on any cabin I found around there. Three days later, after I had completely given her up for dead (every night had been well below freezing), I got a phone call.

A man who lived three miles from where she bolted and across the partly frozen Rock Creek had gone out to his tent in his yard that he had set up a few days earlier, only to find a scared and hungry little dog had chewed a hole in the tent and was curled up in his down sleeping bag. Oh, Sierra, you survivor, you.

As she grew older I realized more and more what a strong, yet gentle, smart and instinctual friend I had. So sure of herself and so attentive to everything and yet always so playful. Always the life of the party.

When Granite (another puppy rescue we took in, whom I later found out was Sierra's nephew) came into our life, she took to him like a mother. She was a year and a half old.

One time at a friend's wedding camp out, another friend's full grown Mastiff attacked Granite, and before any of us could get there, Sierra charged full speed and T-boned him in his midsection with her head and EVERY bit of speed and strength she had. She then was on top of him, pinning him down with his neck in her mouth. We broke that up right away, but I was soooo proud!

As Granite grew larger than her (she was 85 lbs, he was 105) he became her protector. Granite is half Chesapeake and LOVES water and swimming. Sierra was never a good swimmer, but loved to play in the water as long as her feet touched ground.

One day while playing in the Madison River, Sierra got out a little too far and was swept downstream. She was frantic. I started going out into the water to swim to her, but Granite was already past me, swimming down to her with a big stick in his mouth. He got beside her and she latched onto that stick and he swam her to shore. Crazy!!

I was so proud! These two buddies always looked out for each other and were inseparable.

Another dog came into our lives before Granite, and that was Elvis, the Jack Russell/Rat Terrier mix. His Human was my new girlfriend Kris (who is now my wife) and at first Elvis and Sierra really didn't care for each other, maybe because they were both alphas, or maybe because Elvis really dug boys.

After Granite joined us, the trio grew strong together and when we all started living together we were family for sure. Although Sierra loved Kris and Elvis when we would all get together, at first she wasn't too excited about another alpha dog and an alpha female living with us full time.

She really appreciated Kris after a hike we tried to take to Grasshopper Glacier in the Beartooths. We were all having fun boulder hopping (some very large boulders) our way through a boulder field to the glacier when Kris noticed Sierra was no longer with the pack.

Kris went back to find her, shaking on a large boulder, scared to move in any direction. Kris helped her maneuver through a few key moves to catch her up to everyone. From that day on, Sierra LOVED and accepted Kris.

Kris and I really see our dogs as family. We are a pack and that is how they see us. We lost a very important member of our pack today. For us, this loss is a huge void and it will never fully fill in.

Sierra was truly one of a kind in the canine world. Hell, not just in the canine world, but in the world. Sierra had many human and animal friends. Anyone who knew her loved her, and she them.

Her last night was spent having some of those friends over in the yard, drinking and laughing and loving. When some of her friends heard she might only have a day left, they rushed over.

Each of her dog friends came over to sniff her, and then gave her space. They knew. Even though she was so tired and could barely move, she truly loved that gathering. Each time a friend came through the gate, she slowly got up to greet them with a wagging tail. She would spend a moment and then go lie back down.

We and her friends could tell a thousand stories about her. She traveled the continent with her pack, and her life was a constant adventure.

Sierra loved to be outside. She was always up with the sun and out her dog door into the yard, where she would stay all day and wallow in mud and dirt. Everywhere we went, if there was mud, she was in it. Hence one of her nicknames: Piggy. Some of her other names: Monster, SiSi, Wookie, Monkey Face, Si, Sexy Beast.

Sierra is preceded in death by her brother Rowdy and sister Honey (who also lived in Red Lodge), her pack brother, Elvis, and many other dog friends that have passed on in the last few years. She is survived by her pack brother and blood nephew, Granite, and many more friends.

Each of Sierra's siblings were also amazing beings. I am so glad I adopted from a shelter. Because from one of the lowliest places I found an amazing and beautiful friend. I would encourage people to give a good life to an adoption animal. You may be surprised the diamond you find.

One last thing. I don't think about what may be after this life. I don't know and I can't change it, so I don't care. However, about 30 minutes after Sierra passed away, a bell that hangs outside our front door rang twice. This bell is slightly heavy, like a small cow bell, and we'd never heard it ring before. Even in high winds. There was no wind and when we looked outside, nothing.

We think it was Sierra saying goodbye.