Shania
by Mark and Carol
(Rothesay, New Brunswick, Canada)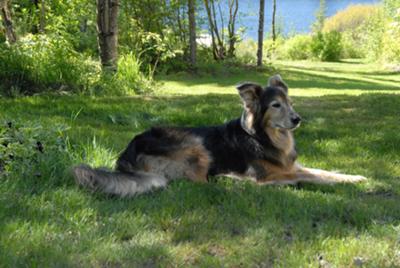 Shania,

You were a gentle spirit and a lover of life.

You were a giver, wanting only to please.

You licked our wounds, and gave us love.

You laid at our feet, content just to be near us.

You ran like the wind, loving the freedom of an open field or a country road.

You were a lady, sweet and serene.

You gave us your all, asking only love and a gentle pat in return.

You loved the smells that travelled on the wind, and the sights of the world around you.

You gave us love, complete and unconditional.

When you knew your time was near, you slipped quietly and gracefully into the night, trying, in your own caring and loving way, to shelter us from pain.

In your final walk, you did what you loved most -  exploring, and taking in all that your senses allowed - the smells, the sounds, and the sights of the forest and the river.

And when your time was near, you came to us in our dreams to say goodbye.

You are now, as you always were, dearly loved.

You have left this earthly life, but you will be forever in our thoughts and our dreams.

We know that you are now running free, running like the wind, drinking from cool mountain streams, soaking up the warm sun, and finding your way in your new life.

We know that you are now sleeping on clouds, dreaming the dreams of dogs.

Sleep well my beauty, and when you awake, run and play, drink from the deep pools, and, every once in a while, pause and look back, for one day soon we shall be reunited.

Goodbye my sweet girl.