Sam, The Beautiful Boxer Girl
by Jean
(Clarksville, IN)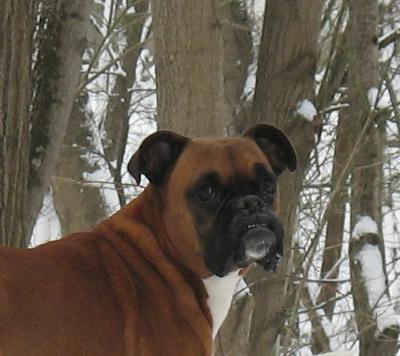 Samantha Belle: December 4th, 1999-July 19th, 2008
Samantha Belle Darling came into our lives at a time when I guess someone up above knew we needed her. She was the runt of the litter and had been passed over multiple times until she was all that was left. When I called about her, the breeder told me she was small, but had personality.

We drove through a near blizzard to Bedford, Kentucky to pick her up and the minute she was placed in our arms, we fell in love with her. We had two beagles already and wondered how she would fit in. She made that instantly clear the minute we got home. Boxers are the clowns of the canine world and her personality was to win anyone and everyone over with her antics and facial expressions. Full of life and determination in all things, my husband likened walking her to having a bumblebee on a string.

She watched the beagles put their noses to the ground and their rumps in the air and that is how she walked a trail. When the male beagle, Gordon, would find something especially foul to roll in, Sam would drop in the same fashion and attempt a full 'Snoopy.' She never quite got the maneuver down, but she tried nonetheless.

We hiked every spring and every fall and she was quite the athlete. She especially loved our trips to St. George Island and would run full speed ahead, biting at the surf and barking loudly for all to hear. Those were probably some of the happiest moments in my life.

She made this house a home, rich and full of life. Never a dull moment for sure.

Then quite unexpectedly and without any warning she developed a UTI (urinary tract infection) in May and after two rounds of antibiotics, we had an x-ray done because we noticed her abdomen becoming more distended. There it was, a mass. That was in June.

The last 3 weeks and 5 days have been very difficult, but we cared for her and nurtured her and made her as comfortable as possible. She still had spunk in her and would bolt after the occasional squirrel (never catching one in her entire life) and still begging for table scraps. Last weekend, her breathing turned more labored and last evening we noticed edema in a hind leg. We knew, and the decision was made.

This morning at 9 AM we arrived at the vet and she was able to walk in, but promptly lay down on the floor of the private room they offered us. I sat down on the floor with her and held her soft muzzle in my hands. My husband sat above her and placed his hand on her side. She was beginning to struggle, but remained calm, her eyes still open but looking at somewhere beyond...somewhere we couldn't see.

The vet made the injection and Sam didn't flinch. She simply took one last breath and that was it. Her life, her beautiful life was gone.

We are heartbroken, we are lost. We know this pain will ease in time and we have spent the day talking about her and remembering her.

What a blessing she was to us, what an honor to have cared for her.

Love knows its greatest depth at the hour of separation.