Rikki, Our Constant Companion
by Sam & Shirley Lasley
(Clearwater, Florida)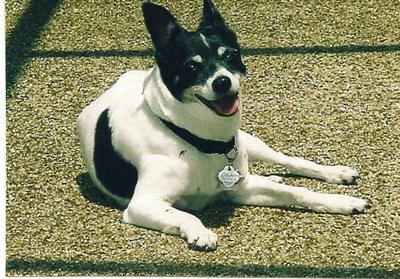 It was 16 years ago that Rikki came to live with us. She had been an abused and mistreated dog whose owners had tried to starve her to death.

We didn't want another dog, but our daughter Debbie brought her to Florida from Michigan where she would hopefully enjoy warmer weather since she was short-haired, a small Rat Terrier.

From the day we got her she was a constant joy and loyal companion. She learned hundreds of words, and obeyed without question. She responded to our love with more of her own. She was joyful, and wanted nothing more than to love and to be loved in return. Our company was all she required to complete her happiness, and seemed content to always be in the room with us or curled up on a couch nearby.

Hunting squirrels was her favorite pastime, and she would come running to me to bring a tool to get them out of the trees. She was fearless, killing citrus rats and a number of snakes as well.

When God called her home at age 18 we nearly died along with her. She was cremated and is on our mantel in the family room. Whichever of us (my wife or I) goes first, she will be placed in the casket with us so that we can't be separated on the last day.

We can't think of replacing her as it would be impossible. We will just mourn for her until the time that the three of us are reunited in God's Heaven for all eternity.