Our dog Bob
by Kate Jones
(Aldridge)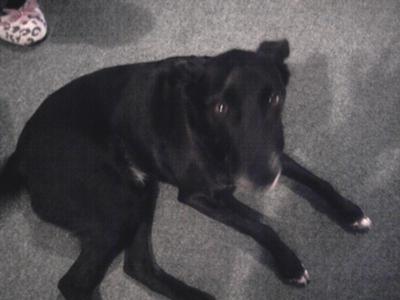 Bob was a six year old cross labrador/lurcher. He came to us from people who no longer believed they could care for him when he was a year and a half and he came with problems! Bob didn't like any mechanical noise, lawnmowers and hoovers especially! Meeting a group of dogs on his walks, being on a lead, and traffic going at a fast speed, he would try to confront these, but would run upstairs when you used the toaster!

But there was the other side to our lovely, cute boy, the dog who gave us so much pleasure and cared deeply for us as we did of him. He loved the fire, being upstairs on the bed, having his belly rubbed, and eating, and eating!!! He loved his toys, especially his favourite Benji. He adored his walks in the woods, chasing those darn squirrels!

Bob passed away so suddenly. Having just finished a walk, and scared by speeding traffic, he bolted out of his lead and into a busy lane where he was hit by a car... on 12 March 2010. One of the saddest days in our family, so hard to come to terms with.

Bob, you were such a part of our family and you have left us with many happy memories - we thank you for that and we will always love you forever. We want you back, to turn the clock back to have you here with us again....

You remain in our hearts forever!