My Sweet Sweet Doxie, Roxy
by Christina
(Milwaukee, WI)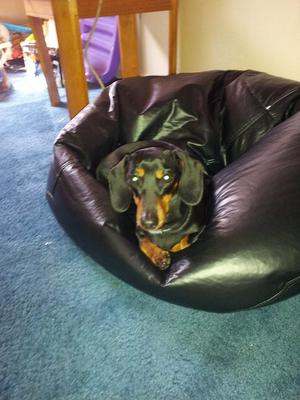 We will remember Roxy forever
You were only 4, so young to have left this earth. We were lucky to have had you in our lives. How I miss holding you. You were my best friend and baby. I looked forward to coming home to cuddle with you, to feel your smooth silky fur.

I miss your bad breath when I wake up in the morning. Your lil dance you did when you were ready to go outside.

I'm sorry I failed to keep safe. I can't stop crying because of the way you left us. You were soo precious, soo loving, such a good soul to have suffered like you did.

I hope you know how much we love you. I look at your pics everyday and now I can see the little parts of you in your baby, that we named Frankie.

When we take Milo outside I see him look around and sniff for you but I remind him you're gone. I know he loves you and misses you. He has been a good daddy to the babies. He and Frankie are best buds.

Nani tells everyone about you and how much she misses you. Daddy wishes he could have done more for you. I still can't believe you're gone, my sweet sweet Doxie, ROXY!