My Sweet Love, I Miss You So Much
by Terrell
(Capitan, NM)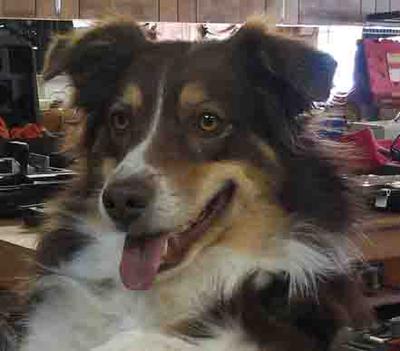 Sarah Belle
I moved to a new state seven years ago. I live alone and didn't know many people. I was lonely and asked God to send me someone to love. He sent me you, my sweet Sarah Belle. I didn't know it, but I had a hole in my heart that was exactly your size and shape. You were three months old.

It was hard at first because I had never had a dog. I learned to deal with your hair everywhere, your drinking from the toilet, and your willingness to eat almost anything!

What I got in return was the only unconditional love I've ever known in my life. You were my constant companion. You went with me everywhere. Everyone knew your name, even when they didn't know mine. You would walk into someone's home or store, just knowing that everyone loved you. You were right.

You opened my heart completely and you moved right into it. You taught me more things about love, friendship, loyalty, affection, forgiveness and joy than I ever knew. You became the song in my heart.

I would make up little songs to sing to you while we cuddled in the bed or watched TV. We would go on hikes in the forest that you loved. We would play with the squeaky toys you picked out from the store.

I was never lonely even one day I was blessed to have you. You knew how to make me smile and laugh every day.

I knew our lifespans were so different that I prayed for God to protect you from anything that would harm you and that He give you long life and good health.

We never spent a single night apart in six years until you got sick and had to stay at the vets. You were away from me for almost two weeks. It kills me that I couldn't be with you during the hardest time in your life. I'm so sorry my love.

I don't understand why God allowed you go at only six years old. I know He will allow us to be together again one day. For now the hole is back and only you can fill it.

The universe won't be able to contain my joy when I can hold you again. I dream of that day...