My Princess Katie
by Chris S
(South Carolina)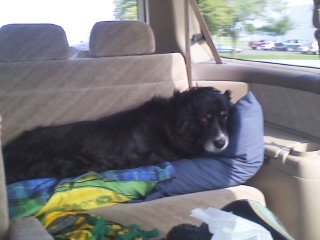 My Katie died 2 weeks ago and I feel like I've lost my daughter/best friend. I don't think everyone around me understands exactly how hard it has been, including my husband.

I keep trying to think about the last 12 and 1/2 years and all the good times we've had, but I always end up crying. She had a tumor in her left sinus. It got very hard for her to breathe so I did the humane thing and put her to sleep but now I feel guilty for doing it.

I was there for her last breath and I keep replaying it in my head because she wasn't calm. I had to hold her still and that thought is killing me inside.

She has been a great "dog." I say it like that because I don't think she truly understood that she wasn't a person. I called my son her brother because in my heart and in hers she was a person. As I always told my son, she was just a very hairy person that walked on 4 legs.

I love you and miss you so much, sissy, and I will NEVER forget your sweet face!