My Best Friend Sadie
by Darren Borg
(Thunder Bay, Ontario, Canada)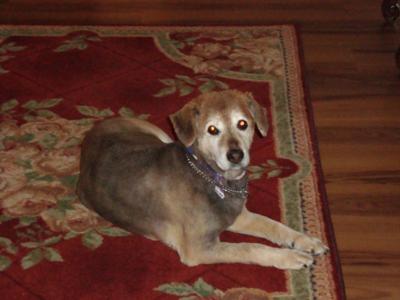 I remember the day I brought her home from the animal shelter. That evening she jumped on the couch then crawled on top of me and licked my face. My life would never be the same.

There were many evenings Sadie would lay beside me on my bed and snuggle closer.

She was such a vibrant and energetic dog, always forcing me to come out of myself and play with her.

Though I struggled with my own pain all through her life, Sadie never stopped being there for me. She would jump up on her rear legs to try to wrap her front paws around me. She loved to play.

As she aged, things starting to change, mainly this last year. Her arthritis in her hips was obvious. She could no longer get up on her own. She also became ill with an enlarged spleen and bladder stones. I did not want her to suffer. I had to release her from her suffering on August 24, 2010. It was the saddest day of my life.

I was privileged that Sadie filled my life with love and joy for 15 and 1/2 years.

Thank you Sadie. Until we meet again, my girl.