Missing My Baby Gizmo, 11 Years Old
by Daisy
(Brooklyn, N.Y.)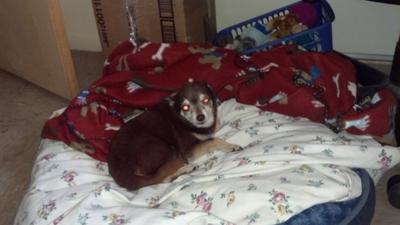 I got Gizmo at 6 weeks old. He was a small chocolate and tan chihuahua so full of life. He was my first dog. I grew to love him so much. He changed me a lot and showed love I never had before. I was with him all the time. I took care of him.

He was smart, loving and playful, and very funny at times, lol. He was very close with us. After losing my husband in April 2012 to cancer, I had to move.

Gizmo kept having panting attacks. After about a year and a half of his panting, I learned it was because of a collapsed trachea. After 6 more months and the terrible storm Sandy, he kept getting it more often. After taking him to the hospital for the second time and vet before that 4 times, I decided to put him to sleep.

After learning what was wrong, I knew he wasn't going to get better. I kind of regret it, thinking I should have waited, but I also didn't want him to suffer anymore. I had to think of his age.

I didn't realize until I got home that he was really gone. I'm so heartbroken, I've cried for two weeks already since his passing. I miss my Gizmo so much. He really took my heart with him. I love the little guy so much.

Now he's with my husband, but I miss him. My place feels so empty without him. Please god, I pray that he's okay and that someday I'll be with them again. I pray for you to forgive me, I did it because I love him.

Thank you, Gizmo, for 11 and a half years of love that you gave us. I'll never forget you, bubby. I love my baby Gizmo.

Gizmo 8/19/01- 12/21/12

Rest in peace, my pet, til we meet again. Please god, give me the strength to be without him. I miss him so much.