Leo "the dock dog"
by Cynthia
(FL)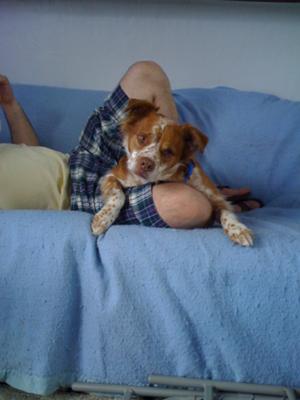 Leo
I lost my Leo 2 weeks ago and he was only 6. He brought so much joy to our family and friends. He was an amazing dog and knew so many tricks. Leo went everywhere with us but mostly he hung out on the dock where my dad keeps his boat. He'd wander onto the boat and then just lounge on the dock or jump in the water or run in the grass.

He loved being around people, he loved all our friends and our friends loved him. He was the main topic of most of our conversations and even though he was about 35 lbs. he insisted he sit on your lap, and this was never a problem. He loved us so much and it didn't matter if you were in bed or at the computer desk or sitting on the couch, he had to be as close to you as possible.

I miss him so much and the grief sometimes seems unbearable. His death was so sudden and unexpected. He was at the vet on and off for 3 days and they didn't know what was wrong. Although I thought for sure he would be coming home to us. They did surgery on him the 3rd day and the news was devastating. I wake up every morning and just can't believe it's not a horrible nightmare.

We are going to have a party for him on the dock when we get his ashes back and he will stay on the boat, his favorite place.