Jude the Cool Dog
by Joshua Hudson
(Festus, MO USA)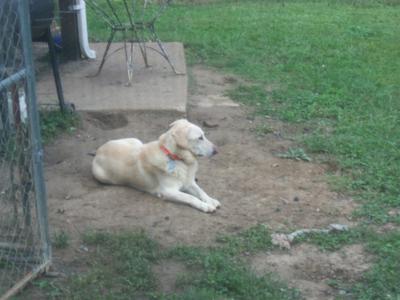 AH, This Is the Life!
Born 1-10-02 in Ellsinore, Missouri, of German Shepherd and Labrador Retriever descent. Raised in Festus by the Hudson Family.

Hip Dysplasia started catching up to him in his later years but he enjoyed being carried up the stairs until his owner (Josh) realized he was starting to have too much trouble walking and getting up.

That was when it was decided it would be best to not have him suffer and to end his life while he was still happy (I feel bad in a way of course) and enjoying life, and before He would get depressed.

Jude loved the smell of barbecue but he may also have liked to get into the cat food more than his regular dog food. He enjoyed digging and making a cool dusty hole in the yard to lay in. He enjoyed an occasional game of tennis ball fetching.

He will be missed dearly.

Rest in Peace.
(DOD) 6-24-16
Write a memorial for your dog. Click here to return to Your Dog's Memorial and begin.