In Loving Memory of our Moo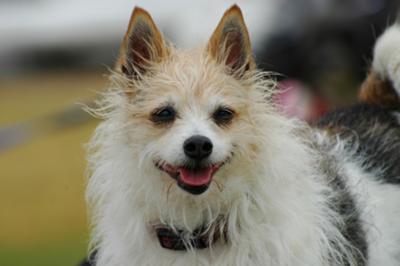 Queen Moo
Moo, I remember how you and I first met. I was at the SPCA in Grahamstown, trying my best NOT to look in all of the cages, as it just breaks my heart to look at those mournful eyes, gazing out of every cage. But you found me nonetheless. You squeezed out from underneath the door in your cage (and kept on proving yourself quite the escape artist), snuggled up against my feet and crept right into my heart. I loved you on the spot.

You became a mascot at Rhodes University, filling our student digs with laughter and, at times, sheer madness with your constant antics!! I'll always remember the day you and Skylla decided to play treasure hunt by burying all of my soft toys in the garden. You certainly were the soft toy queen, your bed an Everest of toys with you squashed in beside them.

Swakopmund, Namibia, also fell under the spell of "Moo Magic", with the local agility club never ceasing to be heart warmed by your adamant refusal to go over any jump, the tunnel being the only piece of agility equipment graced by your agility skills.

After bravely putting up with a heart condition for 13.5 years, you decided to join the rest of our dearly departed pets on 5 September 2011.

You will ALWAYS be the most beautiful girl in the world, and occupy the number one spot in our hearts. We love you Moo, and until we meet again... be good to the others there with you, and do remember that every now and then it is alright to share with your underlings. I love you, my baby girl...