In Loving Memory of Cubby Gottes
by Phil & Lisa Gottes
(Delray Beach, FL)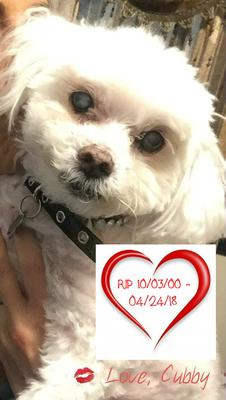 Our Sweet Baby Cubby ❌⭕️

We have loved you from the very first moment we saw you. ❤️ I remember exactly where I was the day you were given to me for my birthday 🎁 back on 12/03/00.

You ran toward me with your tiny paws, You were so beautiful. You looked like a puffy white cotton ball. You stole our hearts. ❤️ We could never love anyone more than we have loved you.

We would do anything possible to make you happy, feel safe and feel loved. 😘 You have made us better people. We have been so privileged to have you in our life for the last 17 1/2 years. God blessed us with your love. ❤️

We had to make the hardest decision of our life today. We let you go to be free from pain and suffering, to rest peacefully in heaven. Although selfishly we wish we could keep you alive forever, we want to honor you and let you leave this earth with dignity.

Thank you for all the amazing love ❤️ hugs, kisses and friendship you have given us all these years!!! Until we meet again.

We will love you forever. ❌⭕️😘❤️🐶🐾

We have puppy prints all over our hearts that will never leave us!! ❤️❌⭕️❤️❌⭕️❤️

You are our angel. God bless your precious little heart in heaven.