I Miss You So Much. My Boy! My Boy 2005 - February 19 2015
by Deb Valentine
(Seattle Washington )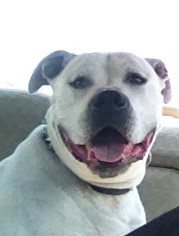 The sweetest!!!!
Mr Baby, whom we all called "Baby" wants to say goodbye to all his friends. He had sooooo many friends! He loved all of you.

He lived with me. I referred to myself as his Gamma" because my son rescued him and could not care for him so I was so very lucky to have him. Just recently I was told he called me maw maw, and thought of my son as his brother! He was the sweetest puppy. I love him so much. The void feels so heavy. I am lost without my boy, so lost...

Our Sweet Boy was the only puppy we ever had, and he taught us so much about life. He was much wiser than us.

He was love itself. He loved everyone and all things, and everyone and all things loved him.

We were so fortunate to have our Sweet Boy for 10 years. We are so very thankful for that time together, and the opportunity to spoil him and dote on him every single day. We feel so very special that he wanted to be with us. He is such a handsome boy!!!

He broke his leg and they found bone cancer. The doc said he felt Baby would be able to make it through the surgery to amputate his leg, but he died after surgery at 8:39 am on 2/19/2015. This was so unexpected. When he had his accident, it was horrible because I, gamma, was visiting my grandson, Baby's cousin, on the other side of the country. I got back in 2 days to rescue Baby.

Baby was being cared for by my son, whom I referred to as his "evil father." He loved Baby so much. He had me care for Baby all his life because I am the master at love and caring!

He said Baby wanted to go play. While Baby was playing at the dog park, he fell and broke his leg. After getting him to the hospital, we were told he had bone cancer. We had to try to save him because he wanted to live. He was so full of life!!

He had bone cancer. It was unbelievable. He must have had lots pain, but he was so stoic and brave. The doctor said removing the leg would get rid of the pain and the cancer! We had to save him and nurse him back to health at any cost. We did not have any money but what we had we paid to the hospital when we brought him there. They were the only place that would let us make payments after his treatment. We were desperate to save our boy!

We had planned to build a ramp and get him some back wheels to make his life as easy as possible. He could have lived a full life, but he just could not make it. My boy tried so hard.

I feel that i failed him. He depended on me. I feel so guilty and sick because I was not able to hold him when he died; the doctor would not let me be there after surgery, which was done at 4 pm the 18th. I wanted to sit in my car outside the hospital and wait but my son would not let me. I was a mess, and still am.

Oh my boy. I thought I could save you, I really did. Everyone was praying all night for you. At 8:39 am I got a jolt through my body. It was you telling me you were leaving. The doctor called at 9 am and said you had died 30 minutes ago, at 8:30. But I knew it was not 8:30, it was 8:39. My boy had let me know he had to go.

Baby is my heart. His spirit will be with us forever. We are one for all time, forever. I found this poem that so much touched my heart in his memory.

A poem from Baby

Do not stand at my grave and weep.
I am not there, I do not sleep.
I am a thousand winds that blow,
I am the diamond glints on snow.
I am the sunlight on ripened grain,
I am the gentle autumn's rain.
When you awaken in the morning's hush,
I am the swift uplifting rush
of quiet birds in circled flight.
I am the stars that shine at night.
Do not stand at my grave and cry,
I am not there, I did not die...