Huey Roberts - The Boi Who Loved
by Jamie
(Philadelphia, PA)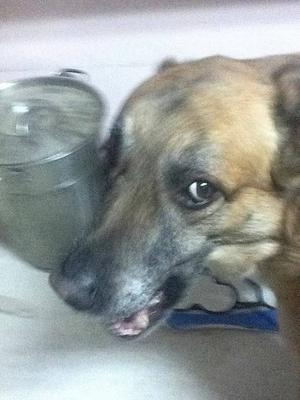 The Boi Who Loved
For nearly 14 years, living, walking love dwelt in our home and hearts. Huey Eduardo Roberts, our beautiful, beloved boy, was eased into whatever comes next following a struggle with the unspeakably cruel arthritis and hip dysplasia that often torments larger dogs, especially those of his combined breeds, Labrador Retriever and German Shepherd. In losing him, our family has lost a chunk of our hearts and we hurt still.

Huey came into our lives on Halloween, 2004: The best treat we could ever hope to have. I was waiting to pick up my son from Sunday school and decided to explore a fairly new shopping center. There was a Petco there. I had no reason to go into the Petco; we had food for the dog we already had and the store does not sell pets, so there would be no cute puppies to ooo and ahh over.

Except that there was: When I walked in there was a little corral, with tiny puppies interacting excitedly with anyone who would pay attention. One puppy, however, simply lay there, snoozing. He was so tiny, so cute. A furry little brown guy with a sweet black nose. I cradled him in the palm of my hand and as he snuggled contentedly without really waking, then realized I was not going to put him down.

I asked a saleswoman how much it would cost to adopt him. She said that he and his litter mates had been found in a box behind the store and that they were being offered to good homes. Then I followed her around the store, the little ball of fluff we would soon name Huey still safely cuddled against my chest, buying the supplies he would need in his new home.

He could not have been more than six weeks old. He slept through the entire drive home, waking only to meet his new human sister, who cooed with delight when she saw him. Later that day, his new human brother welcomed him with equal love. Our three-year-old cockapoo, Lucy, took a while to warm up to him, generally ignoring him, but eventually discovered he could be a playmate.

The years passed by. The pup who fit in the palm of my hand grew so that his head was bigger than his entire body had been. He was loving, playful, fun and funny. He could catch a soccer ball with his mouth. He could hold three tennis balls in his mouth. He shredded rope bones until they were strings. His favorite toys were a blue ball and a green bone-shaped squeak toy.

Huey was as smart as he was generous. Once, hoping to please me, he brought a dead bird into the house and left it in the middle of the living room. When I did not react as he had hoped ("Ahhh! There's a dead bird in the house!"), he picked up the bird, crestfallen, and brought it back outside. We thanked him anyway for the gesture.

The gifts Huey brought us in endless quantity were his love and devotion. He would lay his chin on my knee when I sat in meditation. He would run playfully back and forth through my legs, even as age started compromising his ability to move.

He loved peanut butter biscuits from Trader Joe's and near-empty jars of peanut butter and vegan cheese. He loved curling up on an old meditation mat I'd given him, especially when we put it on top of a cushy sealy bed given to him by a treasured friend. It was especially sweet to see him curled up there with his younger Jack Russell sister, Tonks. Near the end of his life, this is where he spent nearly all of his time, getting up only to eat or take his medicine. On his final day with us, June 28, 2018, he could not rise from it at all.

Realizing we had to let him go was the hardest decision we have ever made. We held him and loved him as he moved on. We hope he has carried that love forward to a place where there is no pain, only ease and joy and lots of friends and balls.

We love you, Huey, and miss you from the depths of our hearts.