Home Is Where Our Harley Is
by Jeff
(Collingswood NJ)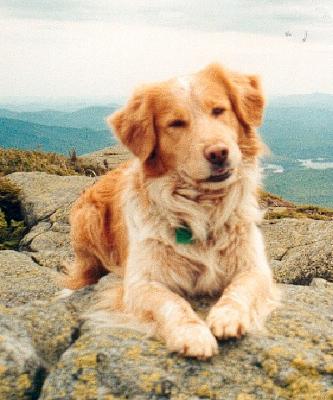 Harley came to us as a stray; a little banged up, unknown age (but about 6 months old, maybe just a little under). He took to my wife instantly, but was timid and a little frightened when I came home. It didn't take long for us to bond, too.

Harley was always sweet, always loving and happy. As a young dog, full of energy, he showed excitement with every person and dog he met, and especially children. He'd lick their faces and make them laugh, and in turn the kids always loved to pet his soft fur. We spent countless hours, he and I, playing fetch in the backyard or in the house, wrestling on the living room floor, going on rides with him happily pushing his snout into the rushing air of the open window.

For almost 16 years, Harley was our constant companion. He hiked many, many miles with us and loved being on a trail in the woods more than anything. He's been up numerous mountains in the Adirondacks and the Catskills, coming back to curl up at our campsite in front of the fire or on our sleeping bags.

Even in his later years as he slowed a little and became less interested in meeting every person we encountered, he showed us how much he loved our little family. He was always there with us, comfortably sprawled on his dog bed or coming over to say hi (and maybe he'd get a treat if he looked at us just right!).

There will never be another dog like Harley. He saw us through so much of our adult lives; he was there for us when we married, he comforted my wife through illness, and brought joy and happiness to us every day.

Harley, you are missed and will never be forgotten. We'll meet up on a mountain trail again, my old friend. We love you.