Goodbye to Simon
by Teresa and Denzil
(Scottsburg, IN)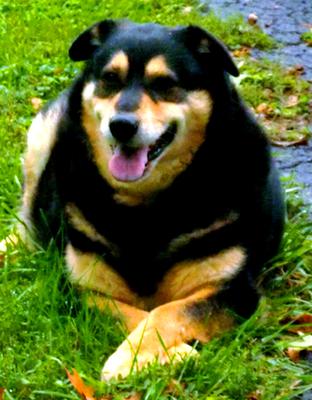 It's a very sad day today. We had to say goodbye to Simon, a mixed breed that came to us 14 years ago and adopted us.

He has been the best-natured dog anybody has ever seen. He was so gentle, he helped our grandson overcome his fear of dogs.

He had stopped eating yesterday and this morning his stomach was swelling. I figured it was bloat so we got him to the vet's office as soon as possible.

After an X-ray, they came in and said his spleen had ruptured and his stomach was filling up with blood. The most likely cause was cancer, and at his age, there was nothing that could be done.

He was a kind, gentle soul that will be missed greatly by all of our family.

This site has helped so many of us deal with the loss. I can't express enough how grateful I am to all of you that come here and offer words of comfort.

I put my 'baby' on here in 2010 and just coming and looking at his picture and reading the comforting words helped so much. Simon deserves the same.