Forever in My Heart
by Mark
(Luxembourg, Europe)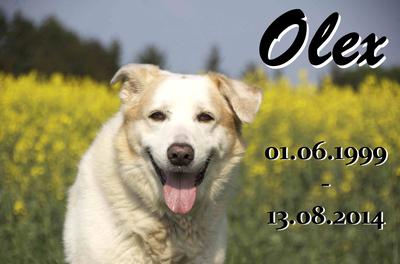 For Olex,

In April 2011, I saw your photo on an animal shelter page. It looked like you were smiling at me. Your old owner died and nobody of her family seemed to want to give you a new home.

I couldn't wait to have you by my side. Even that everybody warned me not to get a nearly 12-year-old dog, I did never regret one single day. You became my best friend, you protected me, you cheered my up when I was feeling down.

But there was always this fear of letting you go sooner or later.

Last Wednesday we had our last walk together. Words can't describe my feelings when the vet told me that there was no help for you anymore, and we had done our best and tried everything.

I wake up during the night because I hear you barking in my dreams. The first night after you were gone I got up and then realized that you are gone.

But you will live inside my heart for as long as I will live. And maybe I'll see you again one day.