For Bronte
by Roslyn
(Kitchener, ON, Canada)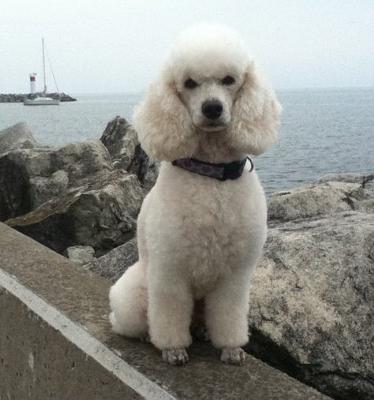 Bronte was born on the same day as my beloved Meya (my second miniature poodle). She was related to Percy (my first mini) and it was like the stars were aligned. Oddly, I wanted a boy but the breeder never committed to that although there were two boys in the litter. She would send me video tapes and I would get to watch the puppies playing and interacting.

It wasn't until the pups were about 8 weeks old that I got the video with the final choices laid out. I have to admit Heidi did an admirable job going over the boy, his structure and his temperament. Then the film split for a moment, and when it came back, there was this zoom shot of the girl puppy's face. "And this is the one I think you should have". So it was. Who could resist that face. Bronte arrived via Air Canada, came out of her kennel with a plop on the grass and promptly chased a leaf as it blew by.

Bronte's first year was full of fun things - being a puppy, and growing hair, and me learning about showing a dog, which I'd never done before. I would send video of our conformation classes to Heidi, and Heidi would send video of her agility classes back so we could help each other out. It was a great partnership.

By the time the fall of 2002 rolled around my baby sister had been diagnosed with a brain tumour (metastasized from breast cancer) and had to undergo brain surgery in October. The surgery went well, but her brain swelled and she seized and ended up in ICU for weeks afterwards. From there it was a journey of learning to speak and walk again. The doctor was amazed at her progress.

In a parallel universe, Meya began having seizures and was diagnosed with a brain tumour as well. I remember going with a good friend to Guelph to see the specialist and walking out, saying "What do I decide? What am I going to do about this?" My little dog was ill and I couldn't find a way out of it. Then disaster for my sister whose cancerous tumour wasn't gone and made a comeback in a deadly way. The same week we found that out, I made the appointment for the vet for Meya to be put down. This, at least, I could do for my dog if I could not do the same for my sister.

So Meya was lost to me, and Percy was ailing as he was geriatric, and then there was Bronte. Silly, funny, Bronte who made the light shine. I used to sneak her into the hospital where my sister was, and take her up to Lesley's room. It still amazes me to this day that this little dog, barely a puppy herself, knew enough to lay down on the bed, and be still for cuddles when asked. When you put her on the floor she was a puppy, but on the bed, she was comfort.

My sister passed the following January and my world continued to fall apart.

By August, Percy's time had come and I took him for his final journey. This I never regretted - we'd had almost 15 years together and we had a great time together - he was my buddy and taught me a lot of things. That same week, I lost my job and the decline continued.

Through all of this, when Bronte and I were alone together, she seemed to know when I needed some comfort. She was my rock - I was able to center myself around her and keep on going. Through the years that followed, with new jobs, and moving several times, and emotional family goings on, Bronte remained the constant. I took delight (and sometimes frustration, I have to admit) in the things that she did in training for obedience, agility and flyball.

But one look at her face, and none of it mattered. She would always get me with those big brown eyes. "Get up," she seemed to say. "I'm here and it's going to be ok." Even when Owen and Bowie joined our family, and life began to sort itself out and put itself back together onto a new path, Bronte was the centre. She was the mediator in the family - often bossing the boys around when the play got too rough and always surveying her kingdom from my shoulder, or a pillow on the bed. She liked to be above everyone so she could see better.

When the vet explained that she had unexplained and unfixable kidney failure, I'm not sure I completely understood. And certainly the ride these past few months has been terrifying at times. There were times when I was sure the vet was wrong, that she wasn't sick at all: just look at her running around the coffee table with a sock in her mouth, or barking at the pigeons. She's fine. Really.

I knew, though, somehow, the day would come when I would have to live up to my promise to her, that one I made the day she came into my life. That should the time come when God would call her back, that I would look after her and let her go. Because somehow, she knew that I didn't need her help anymore. That everything is getting better - I have a job I like, friends I love and that I have the skills to help me get to wherever I'm going.

Bronte's time to leave had come - she had done her job and now it was her turn to have a rest. Who knows, perhaps she goes on and gives a piece of herself to someone else in need.

I am blessed to have had her for nine years and 11 months. I couldn't have made it through without her. Although I miss her dearly, I think I understand... that the greatest act of love is letting go.