For a Love That Lasts Forever
by Ana
(Miami, FL)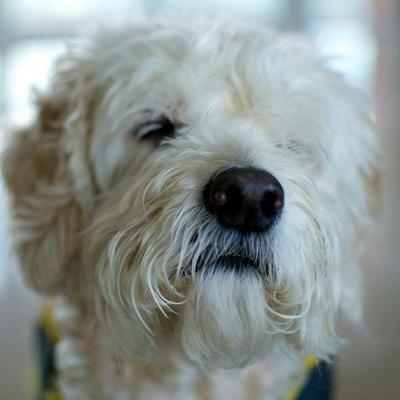 "Sparky came into my life through a common friend. A family could no longer take care of him and I was with no family. I had moved to the US a year before to go to school and I felt lonely and afraid. I had looked for a dog at local shelters, but couldn't find one that was a "good fit."

So I went to see this 7 month old "poodle." I remember knocking on the family's door and hearing him bark. When they opened the door, I was in love. He was just so adorable with his cute grumpy face. I took him home that evening.

I want to say we fell in love immediately. But I did think I was taking a responsibility bigger than I could handle. I was broke, a stranger in a strange land... and here I took this living being that I would be responsible for.

The first 4 or 5 years of our journey together were a struggle. Not because I did not love him with all my heart, but because so many things happened to prevent us from being together: lack of money, I almost ended up homeless, lack of knowledge on rental apartment bylaws.

But I remember that at some point in this torrential fight to stay together, I promised him that no matter what, no one would separate us. I promised him we would be together until his last breath and that my face would be the last face he saw. I remember many dark nights, many hopeless nights, many tears, but many licks and hugs that eased whatever was going on. A smile that lit up the world.

We continued on our journey together. He was my world. My most loyal friend. My most unconditional love. As he got older, I asked him to live until he was 16. My husband asks me why 16 and I answer that 16 seemed so far away... and so old for a 30 lb. cockapoo.

Sparky showed first signs of arthritis at around 7. He was diagnosed with a heart condition at around 8 or 9. He was diagnosed with liver cancer by 13, then Cushing's. By then, I had graduated from college and had a good job and a great husband.

We were able to provide him with great medical care: wellness exams twice a year, stem cell therapy for his arthritis, an amazing cardiologist, surgery for the liver cancer at an amazing cancer center (he did not need chemo or radiation therapy) and treatment for his Cushing's.

In return for the many nights he eased my pain, I provided him with everything I could. I massaged his little legs every day twice a day to ease the atrophy due to arthritis. I cooked for him. I loved him more than love itself. I stayed home any time I was not at work. I loved it all. He slowed down, slept a lot, but ate well and was always a happy and loving boy.

I always thought I would not be able to live without him. I used to ask my husband to please tell me if I ever kept him for my own selfish needs. But when the time came, the day before his 16th birthday, I let go of my soul mate.

His little old body could no more. Not cancer, not heart, just a tired old body. His kidneys gave up. It was not a hard decision to make. My love for him trampled any pain, any desire to keep him with me. I sang to him the same lullaby I sang since he was a baby, the same my dad sang to me when I was child.

He kept my request to stay until he was 16. And I kept my promise, that I would be the last face he would see when he left this earth.

I miss everything about him. His smell, even when he was stinky. I guess especially he was stinky. The grumpy noises he made when he wanted attention. The way it felt like a thousand universes were being born inside my chest every time I kissed him.

I would go through this pain, this sorrow, this emptiness all over again, 100 times, to share the life we shared. He made me a better person. He has taught me about love, compassion, and most of all, he taught me about forgiveness.

I love you more than words in however many languages can describe, my baby. I hope I was half the human you thought I was. I love you forever and always. If there is a life after we leave this one, my one desire is to hug you again.