Farewell To Our Beloved Smeagle the Beagle
by Tammie Lee
(Sellicks Beach, SA)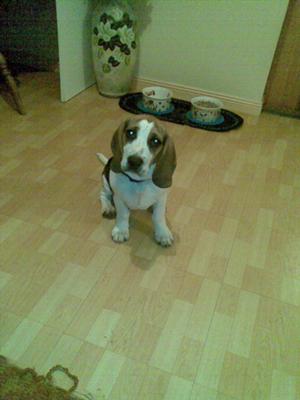 Taken too young
Today we gather here to celebrate the life of Smeagle.
She was a beautiful, loving, friendly big part of our family,
Who was taken from our family far too young!

You were always there right beside us with your snoring. We could hear you from afar. Kaytlin would blow in your nose when you would sneeze inside out to try to help you. Sometimes it would work, sometimes it wouldn't but, it was always funny. xoxoxo

Cody wanted you to sleep with him every night but only sometimes he would get his way and those nights i am sure made you both feel very safe and warm.

Sometimes if you could not wait to get outside and did a pee inside, you would be banished outside for the night to learn your lesson. The kids would sneak you into their rooms and they always thought we did not know. But we always did and that was okay!!!

I personally loved how you would put your head down and your bum up with your tail wagging and make that howling, woofing noise. It always filled my heart with happiness and warmth. That is how I choose to remember you.

Even though Phoenix and you never really got to know each other, I promise you, baby, that he will grow up and learn all about you. And how much you meant to us and how much we loved and adored you. And how you will forever be in our hearts.

You followed Bundy everywhere. There was not too many moments that you and he were not together. You both ran away to chase adventure. You made us worry until you returned, but you remained by each other's side from the moment you arrived from your fluffy parents at Mawson Lakes on that rainy day as a personal gift for your new human Dad. When I thought about taking you back because your deviated septum freaked me out, it was too late because your Dad, Cody, Kaytlin, Bundy and your new mummy had already fallen in love with you. I never regretted keeping you as you were already a big part of us.

We love you, baby, and will missed you. There is a hole in this family that only time may fill with the memories you left behind.

We also lay to rest your four babies, the little girl and the three boys who all struggled without you but were fighters like you until their very last breath.

I am so so sorry that this has happened. I am left dazed and confused and extremely sad as to what if....

You are free, baby. Go with your puppies and run and frolic in pet heaven. You will always be in our hearts. May you rest in peace.