Delilah the Princess Pit
by Rhonda Brogden
(Crossville TN)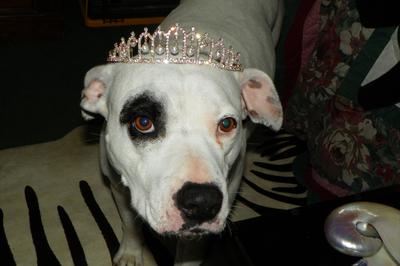 She was inches from death at the shelter. The kill all rule for Pit Bulls was in effect at the time. She had been raised by an older woman who could no longer man handle her. She was a very fit 110 pounds. One of the largest females I had ever seen.

My future roommate saved her and she became his sidekick for many years before I came to Tennessee with my Boston Bulldog, Bubbles.

It was love at first sight for Delilah and Bubbles and she was his protector. She was also my roommate's protector, seeing him through a bout with cancer prior to my arrival. I fell in love with her, her beauty, her charm. Many nights she would scratch on my door to sleep with Bubbles and me.

When she was 13 my roommate's cancer returned with a vengeance and she never left his side during especially difficult chemo.

As if in sympathy, she contracted cancer as well that year. It was almost as if she were trying to take his place. When she was finally in too much pain for any of us to bear there was no choice but to have her euthanized, even though she never once complained.

She came out of her master's room and she fell on the floor and could not get up. Ever dignified, she looked at me with pleading eyes. My roommate was too weak to lift her. We e both struggled to take her to the truck. She never left her favorite place on the seat as shotgun. The vet came to her.

Her ashes are in a place of prominence in the curio in the front room. I painted a memorial statue that is in the living room where she liked to lay. Bubbles goes there often and lays beside it as he did when she was alive.

Delilah was a strong presence in life, I believe she returns to comfort Bubbles from time to time. My roommate beat his cancer against all odds and to the complete surprise of the doctors.

I like to think Delilah really did take his place, protecting him to the very end. She always seemed to know things we didn't, as though she had powers we couldn't understand.

Some nights I still hear a faint scratch at the door...