Chloe With All Our Love For Ever Died 24th April 2012 aged 14
by Jean Finan
(United Kingdom)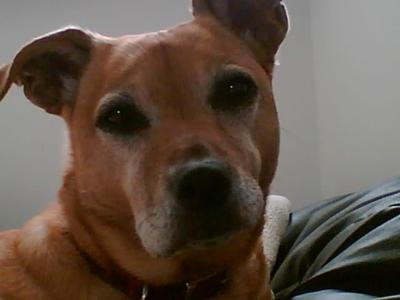 Brown Eyes
My son in law Mick Ward and my daughter got Chloe from a dog's rescue shelter at 6 weeks old. She had her daft moments as a pup and chewed the full carpet in half and rove all the stuffing out of the settee, which at the time they were not very pleased about, but she was so lovable you had no choice but to forgive her.

For a little mongrel she was so unlucky. She had to stick to a special diet, had numerous operations on her ears, and used to sometimes wear socks because of irritation to her paws from the grass outside.

We all loved our little dog dearly. She was our best friend and part of the family. When Heidi was born 5 years ago, she loved the dog and Chloe protected her and followed her all over. She loved going for walks in the woods and down the beach and in the cemetery.

Chloe had to be put to sleep on 24th April on the vet's advice because she had a heart murmur and her health deteriorated rapidly.

We all have cried so many tears but now we are trying to remember the good times. She was privately cremated and her ashes will be scattered at the cemetery by Michelle, Mick and Heidi.

We will all love our little dog for ever and send all our love.

RIP Chloe. We will always cherish your memories.