Cheri My Poodle
by Dave
(Colorado)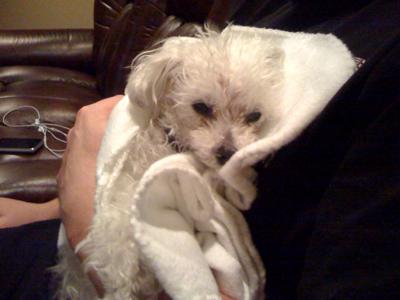 Cheri, My sweetheart - you are the best dog ever. You brought so much joy and laughter into our lives. It is truly amazing that a being as small as you are, can bring so much joy, happiness and love to my life and your family.

Your love for us had no boundaries, no conditions, and I knew that you loved me every time you made that adorable, heart-melting whimper.

Life became too hard for you. I know that if I was in the same situation, I would not have wanted to live any longer. On Sunday, your unexpected suffering needed to end. Your body had failed you. We never wanted to see you go, but it was important to send you off to rest in peace.

I don't believe in an afterlife, but I wish that there was one because I would like you to bite my nose, lick my face, shake your butt and whimper your happy cries once again. I would be just as happy to see you and I will chase you all over the place shouting boogie, boogie, boogie. Until my end, I will miss you dearly.

Cheri passed this past Sunday, June 24th 2012. She gave us 16 wonderful years.