Brown Dog My Buddy
by David
(Cocoa, FL)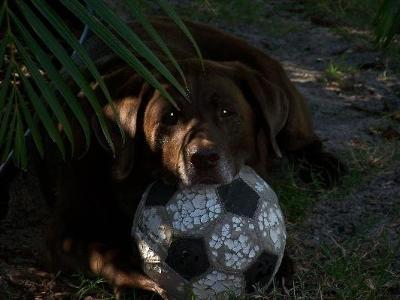 Austin: 03/22/1999- 05/31/2011
Austin: 03/22/1999- 05/31/2011

We brought Austin, a beautiful chocolate lab, home when he was 7 weeks old. He could fit in the palm of your hand.

As Austin grew and secured his place in our hearts, I realized what a special friend we had. He was so considerate.

One of his loves was "the ball." Over the past 12 years, I can't count how many soccer balls we went through. Every day there was at least an hour of ball throwing. A fair trade off, for that kept him out of the garden.

We just lost Austin 3 days ago, so it is extremely hard to put all of these heavy feelings into words.

So I leave you dog lovers with a picture of one my best friends.