Bernie, My Baby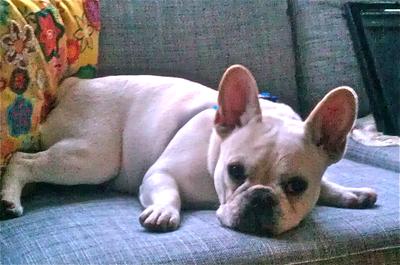 It has been a few months since you've been gone and some days I still walk into the house and expect to see you there. You were such a sweet and happy little thing and brought me more joy than anyone or anything ever has in my life.

You loved to cuddle, and slept in our bed with your head on the pillow. You couldn't wag your tail so you would wiggle your whole body with happiness. Everyone who met you loved you. You were the first dog I had that was truly mine, and I am so sorry I did not do a better job keeping you safe.

We were out for a run and you were having such a great time. Then you saw a dog on the other side of the street and starting lunging and barking because you wanted to get over there to play. I picked you up to calm you down and, although you wiggled a lot at first, you did calm down.

I put you down and half a second later realized that in your wiggling you separated the leash from your harness. You saw your chance to play with the other dogs and took it, dashing across the busy street, right in front of an oncoming car. The one blessing is that it happened instantly and they say you wouldn't have felt any pain.

It kills me because it was such a senseless tragedy. There were so many tiny choices that I could have made, any one of which would mean you would still be with me today. Next month would be your first birthday. I feel so robbed of all the years we should have had together.

I miss you, baby. I am so sorry. You were the best little boy.