Baby Bella Bear
by Susan
(Highland, MD)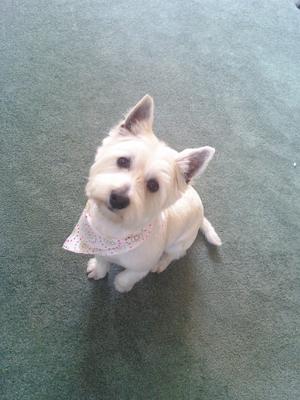 Clean and groomed, waiting for daddy
It has only been 2 days and i just can't stop crying and missing you. You were so much a part of my day.

Every morning, going out with your sisters, who also miss you and look for you everyday. Coming in to get your bacon treat, you were always the first in line. :)

The rides to the post office or bank are not the same. Daddy misses you meeting him at the door with kisses. Yesterday was his birthday and he was so sad you were not here.

I have your new collar you didn't even get a chance to wear but I am going to keep it. It just wouldn't be right to give it away.

We miss playing fetch with you and your favorite ball. You were just a few days from your 4th birthday, and to be taken from us in such a cruel way is unforgivable.

We are trying to find who drove into the yard and took you from us in that way.

Much Hugs, tummy rubs and kisses until we meet again, my love. Bella Bear, you will always be in our hearts.