Angel~ In Every Sense of the Word~
Angel~ In Every Sense of the Word~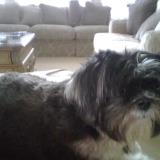 My Light
My sweet Shih Tzu, Angel, died November 29 , 2012 the same way she lived for almost 14 years, in her mommy's care and surrounded by love. She fought until she could not fight anymore.

For 14 years, Angel was my constant companion. She smiled at me when I was sad, she licked the tears right off my face when I was beaten, broken and discouraged. She gave me life, and in return I tried to give her the best life I possibly could. She deserved every bit of it and then some.

The only place to bury something so precious is in the heart of its master/mommy.

RIP Angel Baby. You took my breath away.
Return to 2012 October-December