Andre... The Most Amazing Rascal Anyone Could Ask For...
by Annie
(Singapore)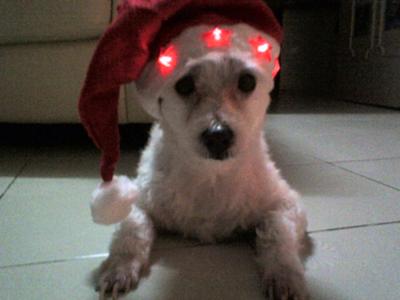 It's Time To Party!
I remember bringing Andre home on the day I bought him.
He seemed like such a good boy. So quiet and sweet.
Little did I know, those were false impressions of him.
Turns out he had a whole different side to him.
The endless barking, the difficulty in getting him to take a bath and the endless running around just trying to catch him.
I remember our hide and seek games, they were the best!

The handshakes and high fives that you gave me were the only things I managed to teach you.
You really didn't like to learn new things. :)
But I still love you so much.
It's been a wonderful 13 years.
Though my heart is breaking so badly, I knew you were suffering.
I couldn't see you like that anymore.
I will always love you Andre.
You saved my life when i was falling apart, with your charm and love.
This house just seems so empty without you.

I know you're in a better place now.
So stay safe and I'll see you soon in time to come.
You will always be remembered, my baby boy.
No amount of words could express the love I feel for you.
Just one last time, I'd like you to know,

I Love You Very Much. No One Will Ever Take Your Place For You Will Always Be Buried In My Heart.